Venue & Hospitality
Our Venue & Logistics team is in communication with 2 best properties (Hotels) in Toronto, USA and we will update the final venue information soon.
For your better understanding and kind information, we recommend you to check our previous Toronto conferences venue and conferences information listed below.
We strongly recommend you to view the feedback given by our previous attendees @ http://conferenceseries.com/usa-meetings/reviews

Our Previous Conferences held in Toronto
Hotel
Contact Details
Year
"SANDMAN SIGNATURE MISSISSAUGA HOTEL 5400 Dixie Road | Mississauga ON | L4W 4T4"
"Iram Saeed | Guest Services Manager Phone 905 238 0159 - [email protected]"
2017
"Park Inn By Radisson Toronto Airport West
175 Derry Road East
Mississauga, Ontario
L5T 2Z7, Canada"
"Welty Samuel Front Office Manager T: +1 (905) 364 9999"
2017
Park Inn By Radisson Toronto Airport West, 175 Derry Road East, Mississauga, Ontario, L5T 2Z7, Canada
Welty Samuel, Front Office Manager, T: +1 (905) 364 9999
2018
We successfully organized 3000+ Conferences across America, Europe, Asia and Middle East continents, find more information @ https://www.conferenceseries.com/previous.php
---
Park Inn by Radisson Toronto Airport West
175 Derry Road East, Mississauga,Ontario, L5T 2Z7, Canada
Conference Dates: September 23-24, 2019
Hotel Services & Amenities
Audio/Visual Equipment Rental.
Business Center.
Business Phone Service.
Complimentary Printing Service.
Express Mail.
Fax.
Meeting Rooms.
Office Rental.
Photo Copying Service.
Secretarial Service.
Telex.
Typewriter.
Video Conference.
Video Messaging.
Video Phone.
ATM.
Baggage Storage.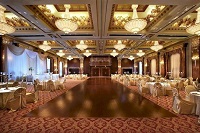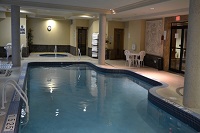 About City
Welcome to Toronto, the most multicultural diverse city on the planet: over 140 languages are spoken. It's estimated that over half of Toronto's residents were born outside Canada, and despite its complex makeup, Torontonians generally get along. When the weather is fine, Toronto is a blast: a vibrant, big-time city abuzz with activity. Some of the world's finest restaurants are found here, alongside happening bars and clubs and eclectic festivals.
Put simply: Toronto is fun. With top-notch restaurants and theatre, museums and art galleries, there is plenty to see and do. The downtown skyscrapers mark Canada's financial hub, but after hours, business folk swap suits for shorts and head outside in summer; in winter, they pull on parkas and ice skates.
North America's fourth-largest city, Toronto buzzes with 200,000 students and a population representing 200 nations. As well as ethnic restaurants, the food scene features some of Canada's best chefs, all following the "fresh and local" mantra. Getting around is easy on the efficient transport system; Niagara Falls are two hours away.
Niagara Falls are just two hours away
Toronto's variety is surprising. The 1,815-ft CN Tower provides astonishing views over Lake Ontario. Below, Toronto's cultural scene hums, with theatre, ballet and lives music nightly in dozens of pubs. Classy museums include the Art Gallery of Ontario, the Royal Ontario Museum and the quirky Bata Museum, all about shoes. Have fun in the Distillery District ; buy funky fashion along Queen Street West ; munch your way round Kensington Market and St Lawrence Market.
Emergency services
Ambulance: emergency 911; non-emergency 416 392 2000
Police: emergency 911; non-emergency 416 808 2222