Recommended Global Dentistry Webinars & Conferences
Asia Pacific & Middle East
Dental Marketing 2020
About Conference
After the success of Dental Marketing 2017 in Las Vegas, Dental Marketing 2018 in Boston, and Dental Marketing 2019 in Toronto we are inviting participants across the globe to attend 38thInternational Conference on Dentistry & Dental Marketing (Dental Marketing 2020) during September 25-26, 2020 in Vancouver, Canada. The main theme of the conference is 'Modern Dentistry with Gentle Care' The relative novel nature of the conference and its relevance to the current dental market makes this summit an event to look forward for all the individuals of the Dental Community
Dental Marketing 2020 will look to improve and build on the steeping stones of its predecessor and create a platform for discussion on dental practice management and marketing besides conventional dentistry
The nature of the conference is crucial to its purpose as dentists who attend the conference can not only contribute and share their research but also learn about how marketing influences their practices and implement and modernize
Dental Marketing is the integration of marketing strategies in the field of dentistry to help Dental Professionals harness the full potential of their practice. It involves the use of tools and techniques of marketing to achieve a certain degree of publicity and broaden the reach of the practice and the practitioner. The conference is a rare opportunity for all individuals of the dental community to upgrade their know-how of the latest marketing strategies.
Sessions/ Tracks
The essence of public health dentistry lies in the fact that the area focuses on a community or population as a whole and not individual patients. Public health dentists work towards betterment of overall oral and dental health of their communities. They educate patients to adapt to practices that might help improve their general dental health in the long run. Public health dentistry also concentrates on patient education, increased awareness of government programs and efforts towards community dental health and wellness.
Oral health improvement.
Dental public health intelligence.
Academic dental public health
Oral health surveillance.
One of the nine dental specialties recognized by the ADA, RCDC & RACD, Oral and Maxillofacial Radiology is primarily concerned with the performance and interpretation of diagnostic imaging of the mouth, jaws and adjacent structures. OMFR often called DMFR spans a broad area covering techniques like Cone beam CT, multislice CT, MRI, PET etc.
Conebeam CT
Multislice CT
MRI
Track 3: Oral and Maxillofacial Pathology
This dental specialtity focuses on any and every disease around the "Oral Cavity" ie mouth , "Maxillofacial" ie Jaws and all related structure like salivary glands, facial muscles, Temporomandibular Joints, facial muscles & the perioral skin. Oral & Maxillofacial Pathology covers a vast range of pathological disorders ranging from congenital ones like Malocculsion, Eagle Syndrome to acquired ones like Gingivitis, Herpes Simplex & Oral Candidiasis. Some areas of Oral & Maxillofacial pathology even extend to the treatment of complex conditions Sjoren syndrome, Oral Cancer.
Malocculsion
Gingivitis & Periodontitis
Neoplastic & Idiopathic disorders
Angiodema
Track 4: Oral and Maxillofacial Surgery
Oral & Maxillofacial surgeons deal in surgically treating a range of diseases, injuries & defects in the head, neck, face, Jaws and tissues surrounding these structures. The area consists of widely used procedures like cosmetic surgery of the head and the neck , dentoalveolar surgery to relatively new ones like applications of lasers.
Cosmetic Surgery of the head and neck.
Orthognatic Surgery
Insertion of Osso-integrated dental implants
Laser applied OMS
Track 5. Pediatric Dentistry
Formerly known as Pedodentistry , pediatric dentistry involves providing special dental care for children through adolescence. Pediatric dentists educate and provide the necessary dental care to children and advice regarding the child's wellbeing to the parents.
Preventive home care programs
Need for early detection
Diet counseling
Track 6. Endodontics
Endodontics is the dental specialty that is concerned with the overall health of the dental pulp and the tissues surrounding the teeth. The ADA defines Endodontics as the "study and practice encompass the basic and clinical sciences including biology of the normal pulp, the etiology, diagnosis, prevention and treatment of diseases and injuries of the pulp and associated periradicular conditions." The evolution of Endodontics in the last decade has significantly contributed to the recent increase in the quality of dental treatment.
Root canal
Regenerative endodontics
Endodontic therapy
Track 7. Orthodontics
Derived from the greek words 'Orthos" meaning straight and "odont" meaning tooth, Orthodontics is a recognized dental specialty that primarily aims to help patients obtain optimal occlusion. The area of orthodontic treatment includes correcting crooked or misaligned teeth to provide the patients aesthetically pleasing smiles. The procedures generally use the help of metal wires inserted into orthodontic brackets and functional appliances often used to correct jaw growth.
Braces, Retainers & other orthodontic devices
Functional appliances in Orthodontics
Track 8. Periodontics
Periodontics is the specialty branch of dentistry that studies the structures supporting the teeth Periodontum that includes the gingiva, alveolar bone, cementum and the periodontal ligament. Periodontists treat diseases that affect the above structures through a wide variety of procedures including surgery and use of implants. This specialty of dentistry also covers the placement and maintenance of dental implants.
Peri-Implantitis.
Chronic Periodontitis
Scaling & Root planning
Track 9. Prosthodontics
Often called "Dental Prosthetics" or "Prosthetic Dentistry" this specialty of dentistry is associated with dental prosthesis. According to the definition of the American Dental Association Prosthodontics may be defined as the "" dental specialty pertaining to the diagnosis, treatment planning, rehabilitation and maintenance of the oral function, comfort, appearance and health of patients with clinical conditions associated with missing or deficient teeth and/or oral and maxillofacial tissues using biocompatible substitutes."
Oral & Maxillofacial Prosthodontics
Conditions- Bruxism, Occlusal Trauma, Edentulism, etc.
Treatment modalities-Dentures, Inlays & Overlays, Veneers and more.
Track 10. Digital Dentistry
Digital dentistry might be characterized in an expansive extension as any dental innovation or gadget that consolidates advanced or PC controlled parts as opposed to that of mechanical or electrical alone. This wide definition can extend from the most regularly considered regions of advanced dentistry — CAD/CAM (PC helped outline/PC supported assembling) — to those that may not be perceived, for example, PC controlled conveyance of nitrous oxide. Digital Dentistry includes work in a variety of areas including; CAD/CAM and intraoral imaging — both laboratory- and clinician-controlled; Caries diagnosis; Computer-aided implant dentistry — including design and fabrication of surgical guides; Digital radiography — intraoral and extraoral, including cone beam computed tomography (CBCT); Electric and surgical/implant hand pieces; Lasers; Occlusion and TMJ analysis and diagnosis; Photography — extraoral and intraoral; Practice and patient record management — including digital patient education and Shade matching.
CAD/CAM and intraoral imaging
Computer-aided implant dentistry
Digital radiography
Photography — extraoral and intraoral
Track 11. Sedation Dentistry
Sedation dentistry utilizes medication to help patients relax during dental procedures. It's sometimes referred to as "sleep dentistry," Patients are usually awake with the exception of those who are under general anesthesia. The degree of sedation applied varies significantly from case to case ranging from minimal sedation where patients are awake but relaxed to general anesthesia where patients are completely unconscious. This procedure is ideal for patients with real fear or anxiety that prevents them from adapting the required dental procedure.
Types of sedation used in dentistry.
Pros & Cons of sedation in dentistry.
Precautions to be practiced during using sedatives before a procedure
Track 12. Green Dentistry
Green dentistry is a vast topic that touches on everything from patient care to dental processes. Green dentistry means re-thinking dental processes and procedures, office administration and marketing, and office design and construction, using the tenets of green dentistry as a guide. The Eco-Dentistry Association defines green dentistry as practice that: Reduces waste and pollution; Saves energy, water and money; Incorporates high-tech innovations; Is wellness based.
Elements of Green Dentistry
Eco-Dentistry
Track 13. OSAS
Obtrusive Sleep Apnea Syndrome is a sleeping disorder marked by repetitive episodes of cessation of breathing, 10 seconds or longer, during sleep. During this time, the individual's oxygen level drops, resulting in hypoxemia and sleep disruption. SAS was clinically recognized more than 30 years ago, but the health implications of this syndrome were barely known outside of the medical field. However, as more cases were uncovered, attention turned to the impact of SAS on the general health of individuals, such as the increased risk of cardiovascular disease, along with its oral implications such as periodontitis.
Marketing of Dental Sleep Medicine
Lifestyle modifications to remedy OSAS
Track 14. SEO & SEO in Dentistry
Search engine marketing (SEM) is a form of Internet marketing that involves the promotion of websites by increasing their visibility in search engine results pages (SERPs) primarily through paid advertising. Search engine optimization (SEO) is the process of affecting the visibility of a website or a web page in a web search engine's unpaid results—often referred to as "natural", "organic", or "earned" results. In general, the earlier (or higher ranked on the search results page), and more frequently a site appears in the search results list, the more visitors it will receive from the search engine's users, and these visitors can be converted into customers. SEO may target different kinds of search, including image search, local search, video search, academic search, news search and industry-specific vertical search engines.
Why being on the first page matters!
Traffic is proportional to revenue.
Organic traffic vs paid traffic
How to optimize your practice website.
Track 15. Dental Practice Management
Managing a dental practice takes a lot of finesse and planning. The success of a dental practice vastly depends on how capable the practice manager is. From staff management to patient management a wide variety of critically important tasks need to be executed with extreme care and skill. This session will unfold a few critical principles and laydown a handful of essential ground rules that dental practice managers and owners should look to abide by.
Identifying patients
Pricing- The key to patient intake and retention
Staffing- The backbone of every practice.
Track 16. Oral and Maxillofacial Pathology
Oral and maxillofacial pathology (also termed oral pathology, stomatognathic disease, dental disease, or mouth disease) refers to the diseases of the mouth ("oral cavity" or "stoma"), jaws ("maxillae" or "gnath") and related structures such as salivary glands, temporomandibular joints, facial muscles and perioral skin (the skin around the mouth). The mouth is an important organ with many different functions. It is also prone to a variety of medical and dental disorders. The specialty oral and maxillofacial pathology is concerned with diagnosis and study of the causes and effects of diseases affecting the oral and maxillofacial region. It is sometimes considered to be a specialty of dentistry and pathology. Sometimes the term head and neck pathology is used instead, but this might imply that the pathologist deals with otorhinolaryngologic disorders (i.e. ear, nose and throat) in addition to maxillofacial disorders. In this role there is some overlap between the expertise of head and neck pathologists and that of endocrine pathologists.
Track 17. Dentistry
Dentistry is a branch of medicine that consists of the study, diagnosis, prevention, and treatment of diseases, disorders, and conditions of the oral cavity, commonly in the dentition but also the oral mucosa, and of adjacent and related structures and tissues, particularly in the maxillofacial (jaw and facial) area. Although primarily associated with teeth among the general public, the field of dentistry or dental medicine is not limited to teeth but includes other aspects of the craniofacial complex including the temporomandibular and other supporting structures. Dentistry is often also understood to subsume the now largely defunct medical specialty of stomatology (the study of the mouth and its disorders and diseases) for which reason the two terms are used interchangeably in certain regions.
Track 18. Dental Marketing
Marketing is key to the success of any business and dental practices are no exception. For a dental practice to grow, a single dentist should be seeing 24-50 new patients per month. And in order to attract new dental patients, a practice must offer a competitive product at competitive pricing, along with convenient quality services – all backed by a solid dental marketing plan.
Track 19. Oral and Maxillofacial surgery
Oral and Maxillofacial surgery (OMS or OMFS) specializes in treating many diseases, injuries and defects in the head, neck, face, jaws and the hard and soft tissues of the oral (mouth) and maxillofacial (jaws and face) region. It is an internationally recognized surgical specialty. In countries such as the UK, Australia and most of Europe, it is recognized as both a specialty of medicine and dentistry, and a dual degree in medicine and dentistry is compulsory. In other countries including the United States, India, Canada, Brazil, New Zealand, and Sweden, it is a recognized specialty of dentistry.
Track 20. Dental Stem Cell
Dental pulp is the soft live tissue inside a tooth. Dental pulp contains stem cells, known as Dental Pulp Stem Cells. The finest Dental Pulp Stem Cells are found in a baby teeth or milk teeth. The stem cells from the milk teeth are 'mesenchymal' type of cells i.e. cells that have the ability to generate a wide variety of cell types like chondrocytes, osteoblasts and adipocytes. Chondrocytes are cells that have the ability to generate cartilage, which can play an important role in the treatment of arthritis and joint injuries. Osteoblasts are cells that have the ability to generate bones. Adipocytes are cells that have the ability to compose adipose tissue, specialized in storing energy as fat. In essence, dental stem cells can generate solid structures of the body such as bone, new dental tissue, cartilage and muscle. New research suggests the potential (currently under experimental research) to regenerate nerves. This is being studied further for use in dentistry and medicine.
Track 21. The Future of Dentistry: Benefits of 3D Dentistry and CBCT Machines
One of the most important and exciting developments in dental diagnostic technology in the past decade has been the advent of 3D dental imaging. However, most people likely aren't even aware of what 3D dental technology is- that's how new it is! How is works?
Track 22. Dental Marketing Trends
A Dental Market trend is a perceived tendency of financial markets to move in a particular direction over time. These trends are classified as secular for long time frames, primary for medium time frames, and secondary for short time frames. Traders attempt to identify market trends using technical analysis, a framework which characterizes market trends as predictable price tendencies within the market when price reaches support and resistance levels, varying over time. A trend can only be determined in hindsight, since at any time prices in the future are not known.
Track 23. Dental Marketing Strategies
Dental Marketing strategy is a long-term, forward-looking approach to planning with the fundamental goal achieving a sustainable competitive advantage. Strategic planning involves an analysis of the company's strategic initial situation prior to the formulation, evaluation and selection of market-oriented competitive position that contributes to the company's goals and marketing objectives. Strategic Dental marketing, as a distinct field of study emerged in the 1970s, and built on strategic management that preceded it. Dental Marketing strategy highlights the role of marketing as a link between the organization and its Patients.
Track 24. Oral Cancer
Oral cancer, also known as mouth cancer, is a type of head and neck cancer and is any cancerous tissue growth located in the oral cavity. It may arise as a primary lesion originating in any of the tissues in the mouth, by metastasis from a distant site of origin, or by extension from a neighboring anatomic structure, such as the nasal cavity. Alternatively, the oral cancers may originate in any of the tissues of the mouth, and may be of varied histologic types: teratoma, adenocarcinoma derived from a major or minor salivary gland, lymphoma from tonsillar or other lymphoid tissue, or melanoma from the pigment-producing cells of the oral mucosa. There are several types of oral cancers, but around 90% are squamous cell carcinomas, originating in the tissues that line the mouth and lips. Oral or mouth cancer most commonly involves the tongue. It may also occur on the floor of the mouth, cheek lining, gingiva (gums), lips, or palate (roof of the mouth). Most oral cancers look very similar under the microscope and are called squamous cell carcinoma, but less commonly other types of oral cancer occur, such as Kaposi's sarcoma.
Track 25. Dental Traumatology
Dental trauma refers to trauma (injury) to the teeth and/or periodontium (gums, periodontal ligament, alveolar bone), and nearby soft tissues such as the lips, tongue, etc. The study of dental trauma is called dental traumatology.
Track 26. How to Create an Awesome Dental Marketing Plan
Every small business owner tends to struggle with creating their first marketing plan. I think the main reason for this is that most business owners tend to focus on the outcome and end campaigns, while often overlooking the strategy, planning and execution phases. Unless you've gone to school for marketing or business, you probably haven't been trained to create a strong marketing plan. Doctor's that we work with here at Elevate DDS have many years of school under their belts, but not many of them studied any sort of marketing during their time in college. This is why we thought it would be a good idea to outline what a dental marketing plan should look like, from inception to campaign completion.
Track 27. Nanotechnology Inspires Next-generation Dental Materials
Have a cavity? Ask your dentist about filling it with a mixture of nanoparticles including silica and zirconia. These white fillings resemble teeth better than their metal alternatives and are less likely to come loose or fracture teeth. This is just the beginning argue scientists in a review of 'Nano dentistry.' Next-generation dental materials incorporating nanotechnology aim to help teeth self-heal, rebuild enamel, and protect against bacterial infections.
Track 28 Dentistry – New Technologies
There are four major disciplines within dental technology. These are fixed prosthesis including crowns, bridges and implants; removable prosthesis, including dentures and removable partial dentures; maxillofacial prosthesis, including ocular prosthesis and craniofacial prosthesis; and orthodontics and auxiliaries, including orthodontic appliances and mouth guards. The dentist communicates with the dental technologist with prescriptions, drawings and measurements taken from the patient. The most important aspect of this is a dental impression into which the technologist flows a gypsum dental stone to create a replica of the patient's anatomy known as a dental cast. A technologist can then use this cast for the construction of custom appliances.
Track 29. Dental Abnormalities
Tooth abnormalities may be categorized according to whether they have environmental or developmental causes.While environmental abnormalities may appear to have an obvious cause, there may not appear to be any known cause for some developmental abnormalities. Environmental forces may affect teeth during development, destroy tooth structure after development, discolor teeth at any stage of development, or alter the course of tooth eruption. Developmental abnormalities most commonly affect the number, size, shape, and structure of teeth.
Track 30. Cosmetic Dentistry
Cosmetic dentistry is generally used to refer to any dental work that improves the appearance (though not necessarily the functionality) of teeth, gums and/or bite. It primarily focuses on improvement dental aesthetics in color, position, shape, size, alignment and overall smile appearance. Many dentists refer to themselves as "cosmetic dentists" regardless of their specific education, specialty, training, and experience in this field. This has been considered unethical with a predominant objective of marketing to patients.
Forensic dentistry or forensic odontology is the application of dental knowledge to those criminal and civil laws that are enforced by police agencies in a criminal justice system. Forensic dentists are involved in assisting investigative agencies to identify recovered human remains in addition to the identification of whole or fragmented bodies; forensic dentists may also be asked to assist in determining age, race, occupation, previous dental history and socioeconomic status of unidentified human beings. Forensic dentistry is the proper handling, examination and evaluation of dental evidence, which will be then presented in the interest of justice. The evidence that may be derived from teeth is the age (in children) and identification of the person to whom the teeth belong. This is done using dental records including radiographs, ante-mortem (prior to death) and post-mortem (after death) photographs and DNA. "Forensic odontology" is derived from Latin, meaning a forum or where legal matters are discussed.
Prosthodontics, also known as dental prosthetics or prosthetic dentistry, is the area of dentistry that focuses on dental prostheses. It is one of nine dental specialties recognized by the American Dental Association (ADA), Royal College of Surgeons of England, Royal College of Surgeons of Edinburgh, Royal College of Surgeons of Ireland, Royal College of Surgeons of Glasgow, Royal College of Dentists of Canada, and Royal Australasian College of Dental Surgeons. The ADA defines it as "the dental specialty pertaining to the diagnosis, treatment planning, rehabilitation and maintenance of the oral function, comfort, appearance and health of patients with clinical conditions associated with missing or deficient teeth or oral and maxillofacial tissues using biocompatible substitutes.
Restorative dentistry is the study, diagnosis and integrated management of diseases of the teeth and their supporting structures and the rehabilitation of the dentition to functional and aesthetic requirements of the individual. Restorative dentistry encompasses the dental specialties of endodontics, periodontics and prosthodontics and its foundation is based upon how these interact in cases requiring multifaceted care. In the UK restorative dentistry is legally recognized as a specialty under EU directive, with voices from the British Society for Restorative Dentistry and the Association of Consultants & Specialists in Restorative Dentistry.
Market Analysis
According to the report, rising disposable incomes of patients coupled with growing dental care awareness will drive the dental equipment market in the developing Asian countries.
In the developed regions of North America and Western Europe, market growth will be driven mainly by the aging population possessing a desire to retain natural tooth structure.
In 2011, North America was the leader in terms of market share and is expected to maintain its leadership position in 2018. This can be attributed to the rapid adoption of advanced technologies such as CAD/CAM, along with relatively higher dental-health awareness across the population.
Major Dental Associations in USA:
1.Academy for Sports Dentistry
2. Academy of General Dentistry
3. Academy of Operative Dentistry
4. Academy of Interdisciplinary Dentofacial Therapy
5. Academy of Laser Dentistry
6. Academy of Osseointegration
7. Alpha Omega International Dental Fraternity
8. American Academy of Cosmetic Dentistry
9. American Academy of Dental Hygiene
10. American Academy of Dental Practice Administration
11. American Academy of Esthetic Dentistry
12. American Academy of Fixed Prosthodontics
13. American Academy of Implant Dentistry
14. American Academy of Implant Prosthodontics
15. American Academy of Maxillofacial Prosthetics
16. American Association for Dental Research
17. American Association of Endodontists
18. American Association of Oral and Maxillofacial Surgeons
19. American Association of Oral Biologists
20. American Association of Orthodontists
21. American Association of Public Health Dentistry
22. American Board of Forensic Odontology
23. American Cleft Palate-Craniofacial Association
24. American College of Dentists
25. American College of Forensic Examiners
26. American College of Prosthodontics
27. American Dental Assistants Association
28. American Dental Association
29. American Dental Education Association
30. American Dental Hygienists Association
31. American Dental Society of Anesthesiology
32. American Equilibration Society
33. American Orthodontic Society
34. American Society for Dental Aesthetics
35. American Society of Dental Anesthesiologist
36. Arizona State University Pre-Dental Organization
37. Association of Managed Care supplier
38. Charles Tweed Foundation
39. Certified Dentists Internationale
40. Committee on Dental Auxiliaries
41. Dental Anthropology Association
42. Dental helping National Board
43. National Institute of Dental and Craniofacial
Statistical Analysis: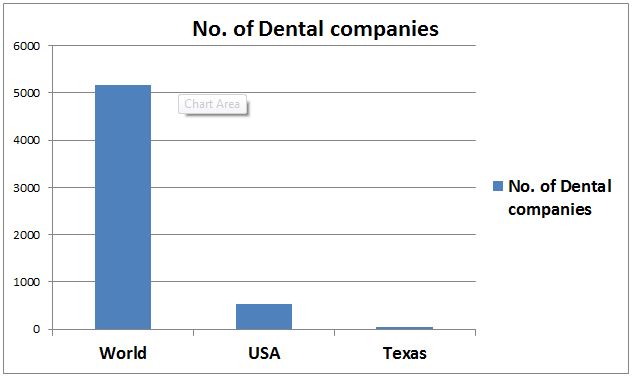 Target Audience:
The Professors, Dentists, Researchers, Clinicians, Educators, Marketing, and Students from Academia in the study of Dentistry and marketing.
Academia-40%
Industries-50%
Others-10%
Glance at Market of American Dentistry:
The global dental market is predicted to succeed in $60 Billion by the end of 2020 at a CAGR of 4.5 %. Factors like evolution of dental materials, discovery of newer, eco-friendlier dental technology; rise in awareness regarding dental health and its correlation with overall wellbeing; accessibility of additional funds for R & D have contributed to the fast rise in the dental market. North America is the market leader with a share of ~42% of the world dental market. The presence of an outsized variety of practice companies and analytical instrumentality makers has contributed to the market boom. One more reason behind the market growth is the huge increase in the number of PPOs (Private follow Owners). Dental instrumentality has the very best market share among all the seven segments (Dental Restoratives Market, Dental medicine Market, Dental Implants Market, Dental Endodontic Market and Dental Equipment Market).
Past Conference Report
Past Conference Report
Dentistry World 2019
Dentistry World 2019 past Conference Report
24rd American World Dentistry Congress was hosted by the Conference Series LLC LTD in Vancouver, Canada during December 04-05, 2019. The conference was focused on the theme, "Tomorrows Dentistry Today" and facilitated by the Conference Series LLC LTD. Liberal reaction and cooperation was received from the Editorial Board Members of Conference Series LLC LTD Journals, Dentistry World 2019 Organizing Committee Members, and researchers, academies.
The conference was started by the Keynote Forum and we are pleased to thank all our Keynote Speakers, Honorable Guests, Speakers and Conference Attendees for creating a successful meeting.
The conference has encrusted through the following sessions:

We would like to specially mention our Keynote Speakers who participated very enthusiastically and actively:
John McAllister, Millennium Dental, USA
James L Ratcliff, Rowpar Pharmaceuticals, Inc., USA
Alex A Giannini, Georgetown Univesity School of Dentistry, USA
Emil Svoboda, University of Toronto, Canada
Sonya Dunbar, RDH, MHA Geriatric ToothFairy, USA
The speakers gave their productive commitment as exceptionally enlightening presentations and made the meeting an extraordinary achievement.
We thank all the members who supported the conference by encouraging the healthy discussions. Conference Series LLC LTD expresses gratitude to the Organizing Committee Members for their generous response, support and helps towards Dentistry World 2019
After the immense idealistic reaction from the logical crew, prestigious identities and the Editorial Board Members from Conference Series LLC LTD, we are pleased to announce our next year coming conference "25th American World Dentistry Congress" to be held in Toronto, Canada during December 04-05, 2020.
We anticipate your precious presence at the Dentistry World 2020 Conference
To Collaborate Scientific Professionals around the World
Conference Date September 25-26, 2020
For Sponsors & Exhibitors
Supported By
All accepted abstracts will be published in respective Conference Series LLC LTD International Journals.
Abstracts will be provided with Digital Object Identifier by